How to Be a Smart and Safe Canadian Traveller
Travelling is so fun, rewarding, and enlightening. Going on adventures will expand your mind and your heart. You can do extreme sports in New-Zealand, go on a camel ride in the Sahara desert, try new foods in Korea, go rock climbing in Yosemite National park, or whatever else you feel like doing. I truly encourage you to do it all, but I also strongly recommend you to be smart and safe.
On some occasions, accidents, natural disasters, illnesses, and other unpleasant events may happen... taking you on a bit of a misadventure. Being prepared for these mishaps is really important.
This article is targeted towards Canadian travellers. I really would like to bring your attention to the Travel and Tourism program from the Government of Canada. Did you know that our government has some really helpful tools in case of crisis and to prevent misadventures? And I mean a LOT of tools.
Why should you prepare before leaving and plan for unforeseen events? You never know what may happen before, during, or after a trip. You may ingest something your body is not responding well to, get trapped in a hurricane, contract an infection, have to go to a clinic abroad, or some situation may prevent you from going on your trip. It's never nice to talk about these events and they don't happen often, but they do happen. I personally had to go to a clinic in Ecuador for an infection, got tourista in Cuba, had a bad sunstroke in Spain, got caught in a flash flood in Rio de Janeiro, and injured my ankle before a trip to California, which I had to cancel.
Travel.gC.ca Website
Not all travelling Canadians know that there's a Travel and Tourism website available with critical tools and information to travel smart and safe. If you plan to travel, go to travel.gc.ca. GO! You will find information such as:
Travel Advice and Tips
Travel Advisories
Travel Insurance
Visas and Passports
Embassies and Consulates
Health and Diseases
Help and Emergency Contact
and a lot more.
For business trips, I use regularly the Travel Advisories section.
What to do before leaving?
There are some things you should do and learn before leaving, especially if it's your first trip. Even as an experienced traveller, you should still do these things. Believe me, even after hundreds of trips, crazy stuff happens.
Here are a few things you should do:
Review the travel advisories for your destination.
Note the contact details of Canadian embassies and consulates in the countries you plan to visit.
Get a proper travel insurance coverage.
Give a copy your itinerary and travel documents to a friend or family member at home. Never leave without letting at least one other person know (preferably more) exactly where you're going.
Review the health issues and injuries possibilities at your destinations and see if you require special equipment, medication, or vaccination.
Register on the government website as a Canadian travelling abroad.
On the travel.gc.ca website, you'll find a perfect document covering all the key elements you should know about and what you should do to travel safely.
You can read the document Bon Voyage, But... Essential Information for Canadian Travellers online or download it as a PDF or ebook file.
It covers what you should do before leaving as well as while you're there and on your way home.
The site has a lot more useful publications that you should review before going on your trip. I can't insist enough on how important it is to be acquainted with this precious information BEFORE you go.
Health and Safety
There's a gold mine of health and safety articles for various situations and destinations. The Travel Health and Safety section lists valuable information that you should review prior to departure.
Are you pregnant? Are you travelling with children? Are you going to a destination where you could get a sunstroke, get dehydrated, or encounter disease carrying insects? Are you travelling with disabilities? What about a large-scale emergency abroad? That section covers all these topics and a lot more. Be smart and go read it.
Travel Advisory
Is it safe to go to your destinations? Someone may tell you that it's totally fine to go somewhere, while another one is telling you the most horrible things about that same place. Who should you believe? If you want to know if it's safe to go, you can consult the official Travel Advisories list issued by the government. For each country, it says if you should avoid all travels, exercise a high degree of caution, or if everything is normal. I regularly use this list.
Registration of Canadians Abroad
The Registration of Canadians Abroad service is great. If you're leaving on a trip, especially to a destination where natural disasters occur or with an unstable political situation, you should register online. This way, if something happens either at your destination or at home, you can be notified and you can get help. Regardless where you're going, even if you think it's really safe, you should register.
Travel Smart Mobile App
On top of all this, you can also download the Travel Smart mobile app. You can get assistance information, emergency contacts, register as a Canadian abroad, information on your destination, and even get info on the border wait times when crossing back and forth between Canada and USA.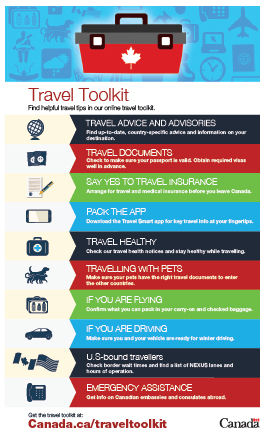 The ultimate compilation of the travel.gc.ca tips are found in the Travel Toolkit. If there is only one section you want to read, it has to be this one. You should go bookmark that page and save the useful images to your Pinterest boards if you have an account.
Emergency Contacts and HELP
If you're away and a natural disaster or civil unrest occurs, do you know who to contact or where to go? Do you know where the closest Canadian embassy or consulate is? Do you know what an embassy is?
First of all, the Emergency Watch and Response Centre in Ottawa can assist you 24 hours a day, seven days a week. If you have an emergency while abroad, you can call or email this service at any time and they'll help you out.
Also, Canada has more than 260 embassy and consular offices in about 150 countries around the world.
You can find out what services are offered and which ones are not here: Canadian Consular Services Charter.
You can find here the list of Canadian embassies and consulates.
Did you know that Australian and Swedish embassies also provide Canadian consular services around the world? There's a special agreement with the government of Canada for this.
Cruises and Hurricanes
For Canadian travellers, especially Quebec, one of the top destination is the Caribbean islands, either in a resort or on a cruise.
There are definitely a few things you can do to be safe and healthy during your cruise or beach trip.
Before heading out to the sun this winter, read these two short flyers to have a trouble-free trip.
Stay Informed
Get live tips, reminder, advisories, and additional information with the travel.gc.ca social network. Follow:
Marie
Who Am I? I'm many things. I'm passionate about tons of stuff. I love travel. I love self-improvement. I'm a sucker for optimization, efficiency, and minimalism. I renewed with mathematics and science, those are so amazing. Astronomy and chemistry are just plain awesome! I'm a student, a mentor, a traveler, a learner, an artist, an animator, and Disney brings me tears of joy! I love to grow and I will never stop! So who am I? All that and everything else I have not discovered about myself yet. It's a never ending answer!
Qui suis je? Je suis beaucoup de choses. Je suis passionné des tonnes de trucs. J'adore voyager. J'adore la croissance personnelle. Je suis vendue à l'optimisation, l'efficacité et le minimalisme. J'ai renoué avec les mathématiques et les sciences, des mondes tout simplement incroyable. L'astronomie et la chimie sont tout simplement génial! Je suis étudiante, mentor, voyageuse, artiste, animatrice et Disney m'apporte des larmes de joie! J'aime me pousser à fond et je ne cesserai jamais! Alors, qui suis-je? Tout cela et tout le reste que je n'ai pas encore découvert de moi-même. C'est une réponse sans fin!